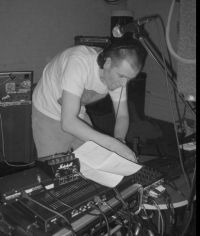 MUSIC
......... pic by stuart tolmie: me causing squelchie analogue mayhem at the 13th note in Glasgow >>>>
---
I've been writing electronic music since the 1990s, when I bought a Novation Super Bass Station with my first student grant. I've played Tronic a couple of times and once had a support slot with The Orb.

I also played bass in Ten To Five Project for a good few years. We never quite fulfilled my (and the drummer's) childhood dream of playing the Barrowlands, but we played King Tut's a couple of times and got some tracks played on local radio. They're still going with a new bassist.

In other random news, I also did the Tesla coil samples for Eric Persing's Omnisphere softsynth, and mastered Jocky Venkataraman's new album. (this is definitely one for the Arab Strap fans)

Of course, I have a myspace where you'll hear some of my tracks and find links to my musical "social network".

If you don't like myspace why not drop me an e-mail at scope_boy@scopeboy.com
RELEASES
---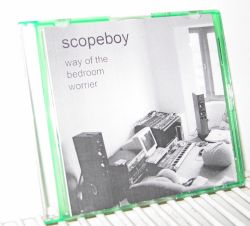 I've released a few CDs over the years as Scopeboy and previously with my brother as the Black Car Collective. I've decided to make all of the good stuff available as free downloads. Starting with "Way Of The Bedroom Worrier", since it was already in a fit state. The rest needs remastered.
There will probably be one more Scopeboy album before I call it quits and come back as something else. The working title is "Falling Out Of Scope"
If you want it uncompressed, you can always buy a CD from me :-)
PRESS
---
The Skinny called me "Lo-fi electronic soft rock in the vein of Schneider TM".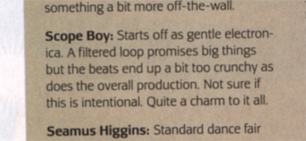 Future Music's Dr. Demos said my stuff had "Quite a charm to it."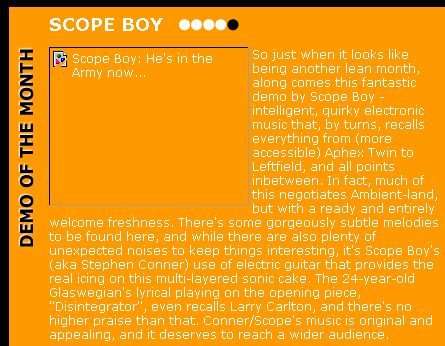 The best review I ever got, from Making Music magazine's "Web Demonology" in 2002. Making Music are no more, but I found it in the Wayback Machine.
BIO, INFLUENCES AND STUFF
---
THE STUDIO
---
Some pics of how it has grown (and recently shrunk again) over the years
Back to index